Recently on various Twitter handles, a misleading tweet is being shared from twitter handle '@Navjot_S_Si':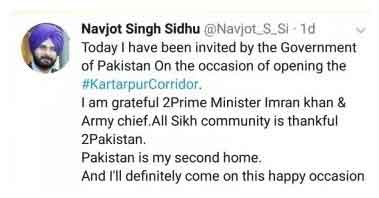 The tweet says-
"Today I have been invited by the Government of Pakistan On the occasion of opening the #KartarpurCorridor. I am grateful 2Prime Minister Imran khan & Army chief. All Sikh community is thankful 2Pakistan. Pakistan is my second home. And I'll definitely come on this happy occasion"

The tweet says-
"Pakistan is my second Home."
This twitter handle '@Navjot_S_Si' even has picture & name of Navjot Singh Sidhu, who is an Indian politician, television personality and former cricketer. He currently serves as the Minister of Local Government, Tourism, Cultural Affairs, and Museums of the State of Punjab. Source: Wikipedia
NARRATIVE ON SOCIAL MEDIA
These types of messages are usually shared to create confusion in the minds of readers or to push forward a specific confirmation bias. Both these message went viral & together have been liked on Twitter more than 25,000 times and re-tweeted more than 4000 times.
Various fact checking website & news media sites, caught this fake account & highlighted this issue. Few examples are below:
Smhoaxslayer
Newsmobile
Boomlive (Hindi)
Currently, this twitter handle '@Navjot_S_Si' is no longer active/available on twitter.
The Official Twitter account for Navjot Singh Sidhu is @sherryontopp:
Tweets by sherryontopp
IN CONCLUSION
Fact Crescendo team tags these kinds of twitter posts as Fake and Misleading.
Fact Crescendo advises its readers to refrain from falling prey to unsubstantiated & misleading WhatsApp forwards and social media posts. When in doubt, visit various news media & fact checking websites online.
Dear Readers,
Do you feel that a certain story is fake? Do you know some additional factual details about a claim being shared on social media?
Then you can submit that claim or news here, for our team to verify and fact check for you.
Thanks,
-Fact Crescendo Team