Recently on various WhatsApp groups, a video is being shared. It shows a Congress supporters taking out a celebration rally in Rajasthan post election results.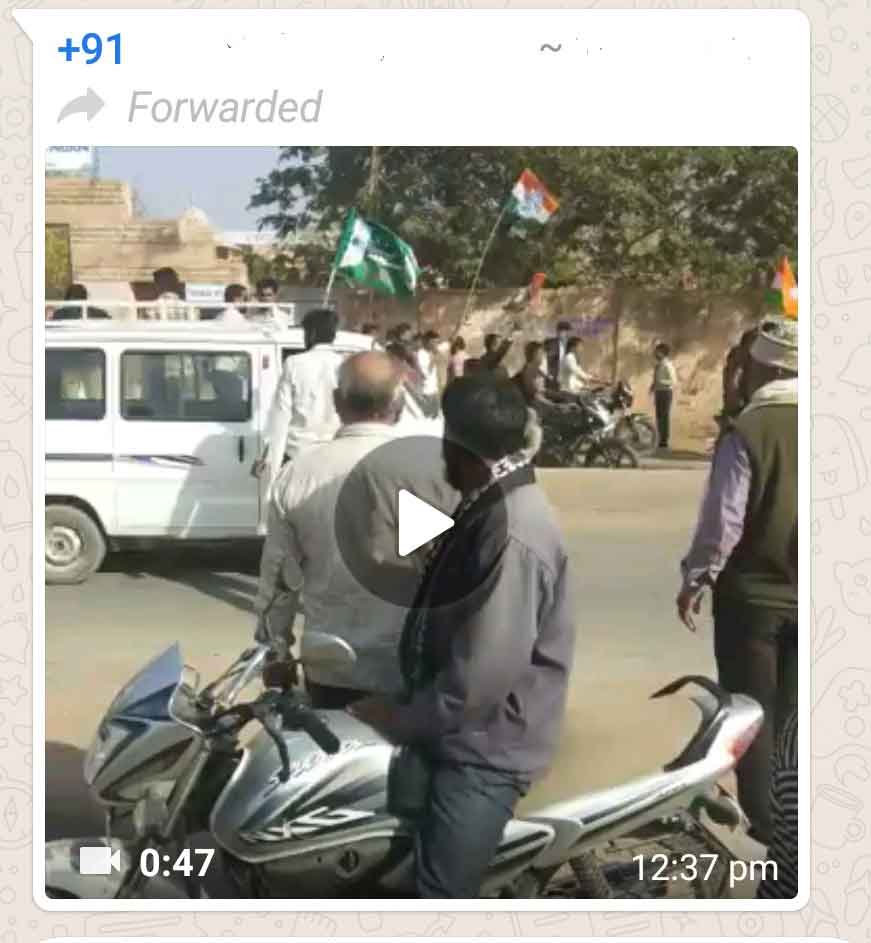 The man making the video is saying loudly:
"कांग्रेस की रैली और कैसे पाकिस्तान का झंडा लहराया जा रहा है, गौर से देखिये आप | गौर से देखिये इस रैली को इसमें पाकिस्तान का झंडा कैसे लहरा रहे है…ये लोग, गौर से देखो, देखो | तुम्हारी खुद की गलती है, गौर से देखो ये | भाजपा का… कांग्रेस पाकिस्तान का झंडा लहराते हुए आप खुद देख सकते है | ये चुरी की है, चुरी की रिपोर्ट है कहीं और की नहीं है | शर्म आती है मुझे इस रैली में खड़े हिन्दू भाइयों को कहते हुए, शर्म कर लो रे शर्म | तुमने ही वोट दिया था न इनको"
Translation In English:
"Congress rally and how Pakistan's flag is being waved in it, look closely. Look closely at this rally and how Pakistan's flag is being waved…by these people, look closely, look.  This is your own fault, look closely. BJP's (correcting) Congress, Pakistan's Flag being waved, you can see for yourself. This report is from Churi, nowhere else. I'm ashamed; I'm ashamed of calling these Hindu's standing here brothers. Shame on you, shame. You voted for them"
NARRATIVE ON SOCIAL MEDIA
These types of videos are usually shared to create confusion in the minds of readers or to push forward a specific confirmation bias. Few examples of this video being shared on Twitter:
Pakistani flag during Congress rally. Is Congress Pakistani party? pic.twitter.com/TNDGxIq4Pr

— Capt Arun Kumar (@trun191) December 12, 2018
This is what happened when @INCIndia won in Rajasthan….The 1st thing which was openly displayed was Pakistan Flag with Islamic Write-ups….

Well Hindus always suffered with alter ego and paid heavily. They'll be doing it again pic.twitter.com/mo8dQvGhrw

— Ravi Bagri FCA (@ravibagri) December 12, 2018
OUR FACT CHECK
Fact Crescendo team did a fact check on this issue. We did Google Reverse Image search after taking a screen-grab from the video & also researched various social media sites to see who were sharing and commenting on this video.
We found the following:
This video has been shared around on WhatsApp & online for past 48 hrs. And is gaining traction.
The misleading audio in the video is trying to push forward a narrative that Pakistani Flag is being waved by Muslim Congress supporters and Congress is supporter of Pakistan.
People push forward this type of narrative to propagate a confirmation bias. Rajasthan Police acted proactively in conjunction with fact checker site Smhoaxslayer and warned general public against this false narrative being shared online:
Alert ??

This video ?️ circulating on #socialmedia claims that there is a Pakistan flag being waved in a victory procession of @INCIndia.

This is false and we request people not to get trapped by this ❌. We are trying to trace the mischief-maker.#FakeNews @SMHoaxSlayer pic.twitter.com/WDnABuJx2M

— Rajasthan Police (@PoliceRajasthan) December 12, 2018
Our readers can see themselves that the flag being waved in the rally is NOT Pakistan Flag:
Displayed below are few screenshots taken from the video:

Also earlier, senior Congress leader Ashok Gehlot was targeted with false accusations that the Pakistan flags were waved at his Jodhpur rally. On 20th November, Ashok Gehlot shared a video on Facebook, in which the flags being waved, had been falsely commented online as Pakistani flags.

A Pakistani Flag has a White & Green colour but an 'Islamic' flag is fully Green in colour. Our readers can easily see the difference themselves:
IN CONCLUSION
Fact Crescendo team tags these kinds of video as pushing Biased views, while actually being False & Misleading.
These kinds of false & misleading videos will be shared across by many people using WhatsApp and other social media applications again & again. But we as readers should be aware of the reality of these kinds of pictures, as to what they really are – just Biased & Misleading.
Fact Crescendo advises its readers to refrain from falling prey to unsubstantiated & misleading WhatsApp forwards and social media posts. When in doubt, visit various news media & fact checking websites online.
Dear Readers,
Do you feel that a certain story is fake? Do you know some additional factual details about a claim being shared on social media?
Then you can submit that claim or news here, for our team to verify and fact check for you.
Thanks,
-Fact Crescendo Team-