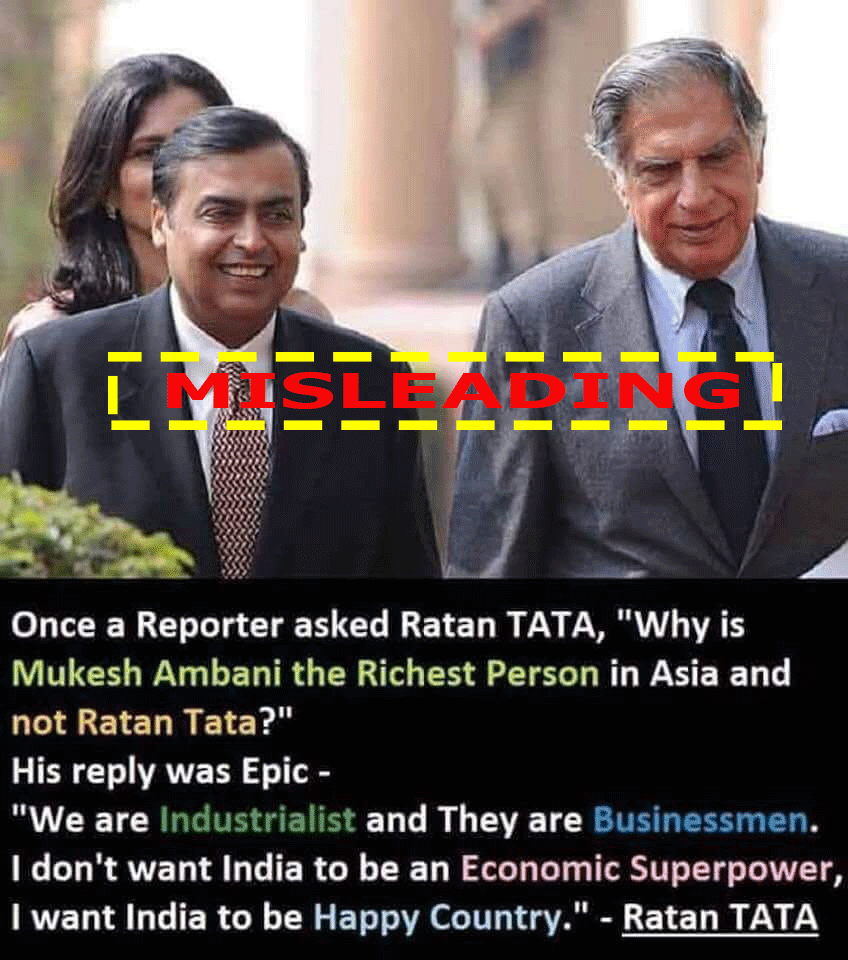 Recently, once again Mr. Ratan Tata quotes are being shared again on WhatsApp groups and Twitter. After some interval of time, these quotes or meme's get shared by various people to promote a specific narrative using Mr. Ratan Tata image and his alleged quotes.
Fact Crescendo had fact checked another claim attributed to Mr. Ratan Tata in June this year. You can read it here:
Similarly, this one too seems to be false. Let's break down the meme being shared into smaller parts so that even our readers can easily fact check this quote on their own.
Firstly, in this meme the image used is from : https://www.gettyimages.in/license/106624716
It has the following comment : "Indian Industralists Mukesh Ambani (L) and Ratan Tata (R) arrive to attend a joint press conference by US President Barack Obama and India Prime Minister Manmohan Singh at Hyderabad House in New Delhi on November 8, 2010. India laid on the splendour of a state visit for Barack Obama, with the US president due to sketch his vision for a friendship which is quickly deepening, despite some prickly differences. AFP PHOTO/Prakash SINGH (Photo credit should read PRAKASH SINGH/AFP/Getty Images)"
So, whosoever has used this image might be guilty of copyright infringement unless they actually paid for it.
Secondly, the text with the quote:
"Once a reporter asked Ratan Tata, "Why is Mukesh Ambani the richest person in India and not Ratan Tata?" His reply was epic – "We are Industrialists and they are Businessmen. I don't want India to be an Economic Superpower. I want India to be Happy Country." – Ratan Tata"
The quote tries to paint Mr. Mukesh Ambani into a negative light in comparison to Mr. Ratan Tata.
This text has been repeated by various sources online on multiple social media platforms. Few of the examples are below:
https://twitter.com/bubipin/status/897349173074210816/photo/1
https://me.me/i/once-a-reporter-asked-ratan-tata-why-is-mukesh-ambani-17418673
https://esmemes.com/i/once-a-reporter-asked-ratan-tata-why-is-mukesh-ambani-17418673
Another Version with different background picture:
An epic reply with perfect demarcation of an Industrialist and a Businessman by Shri Ratan Tata. Must Read. pic.twitter.com/d7d3YpgP3A

— Chetan Barot (@barotchetan99) August 23, 2017
But Fact Crescendo team could not find a single valid source online which can corroborate that Mr. Ratan Tata had indeed quoted these lines to any reporter. All we could find is repetition of the same quote without any reference to whom the reporter was and when or where did this event happen.
Currently, we are trying to reach out to Tata Group for official comment on these quotes.
Additionally, we request our readers to help us in this effort and share with us any valid and easily corroborated source which can substantiate the claim that Mr. Ratan Tata actually made these comments.
We would update as and when we get any new information on this article. So, keep watching this space for new developments.