Recently on various WhatsApp groups photo-shopped images displaying headlines from ABP News, which display false comments allegedly by Rahul Gandhi, are being shared.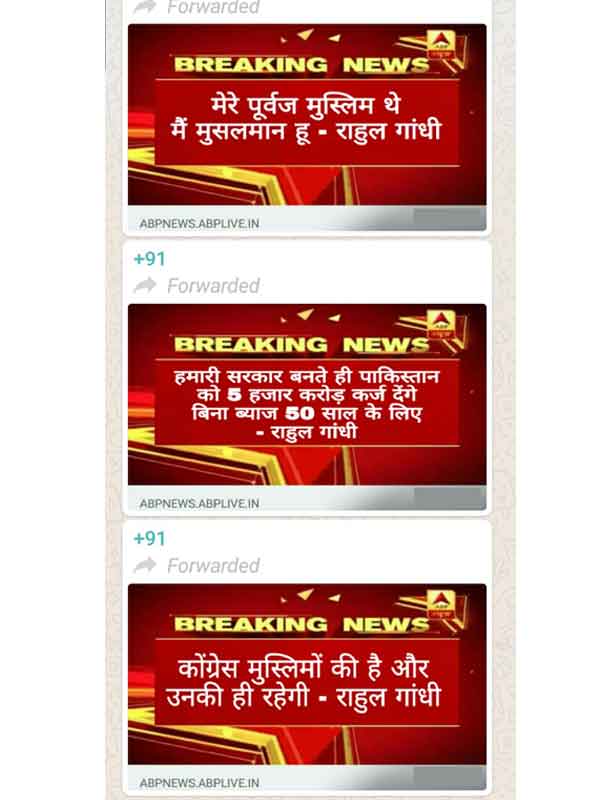 Translation of Hindi text:
1st Breaking News Headline: "My ancestors were Muslims, I'm Muslim – Rahul Gandhi"
2nd Breaking News Headline: "Moment we make our own government, we would give Pakistan an interest free loan of Rs. 5,000 Crore for 50 years – Rahul Gandhi"
3rd Breaking News Headline: "Congress is for Muslims and would remain for Muslims only – Rahul Gandhi"
NARRATIVE ON SOCIAL MEDIA
This picture is being shared to push forward a confirmation bias narrative against Rahul Gandhi. Previously also we had fact checked another fake ABP News headline against PM Modi.
Our readers can view that article below:
FACT CHECK: Supreme Court Orders Case To Be Filed Against PM Modi in Rafael Deal
OUR FACT CHECK
Fact Crescendo team did a fact check on this issue. We did Google Reverse Image search but did not find any matching image. We also researched various WhatsApp groups, Facebook & Twitter handles to see who were sharing and commenting on this claim.
We found the following:
TRUE
Photoshoped images with false texts are being shared around on WhatsApp groups.
These images have been

photoshoped

and are

FAKE

.
The Breaking News headline from ABP News in Hindi is

FALSE

.
Actual Screen grab of ABP News (Hindi) is given below to help readers to compare both pictures :
Screen grab from ABP News(Hindi) video available online. Courtesy: ABPNEWS
Readers can easily see the font is different in the photoshoped image vis-a-vis the actual display.
We advise our readers to refrain from sharing this kind of fake messages on WhatsApp or other social media sites.
IN CONCLUSION
Fact Crescendo team tags this post as Photoshoped and Fake. These kinds of misleading posts or messages will be shared across by many people using WhatsApp and other social media applications again & again. But we as readers should be aware of the reality of these kinds of messages, as to what they really are – confirmation bias narrative and fake messages.
Fact Crescendo advises its readers to refrain from falling prey to unsubstantiated & misleading WhatsApp forwards and social media posts. When in doubt, visit various news media & fact checking websites online.
Dear Readers,
Do you feel that a certain story is fake? Do you know some additional factual details about a claim being shared on social media?
Then you can submit that claim or news here, for our team to verify and fact check for you.
Thanks,
-Fact Crescendo Team-