Recently on various WhatsApp groups and social media, the controversial comments from Rajender Singh Bidhuri, the newly elected Congress MLA from Begun of Chittorgarh district in Rajasthan, are being shared.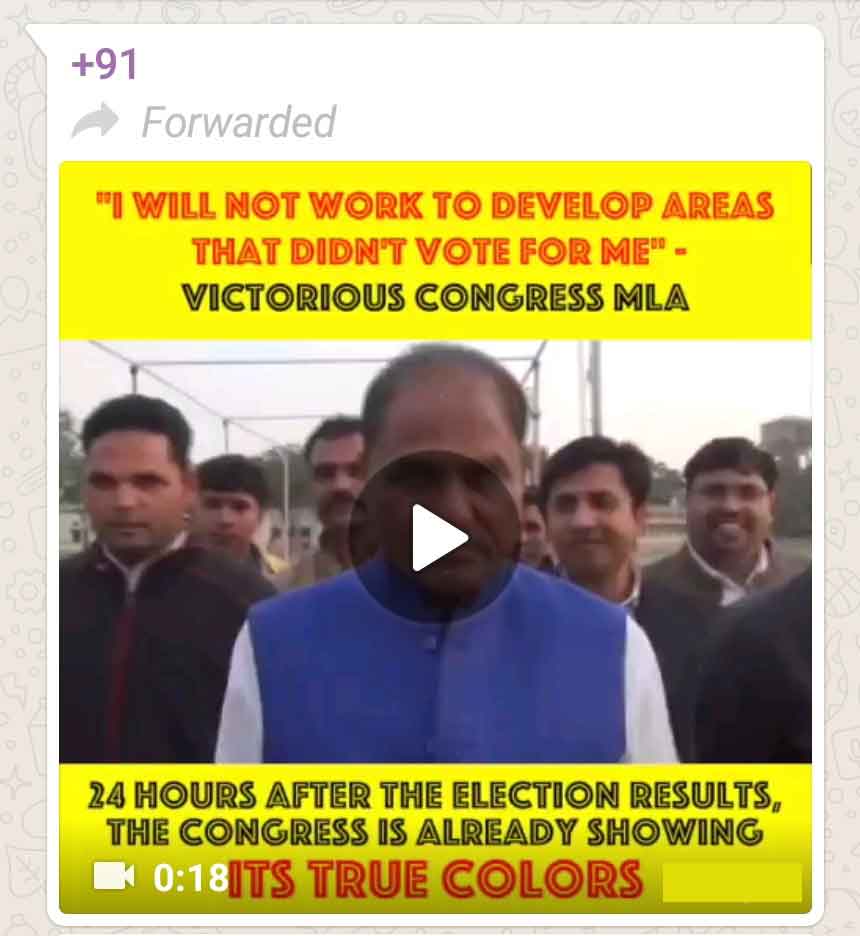 Source:News18 & YouTube: Sweta Kumari

NARRATIVE ON SOCIAL MEDIA

This video is being shared to build a narrative against Rajender Singh Bidhuri & Congress party as a whole.
NOTAveers look what you pushed on fellow Rajasthan Hindus! Shock Video @INCIndia @INCRajasthan MLA Rajendra Singh Bidhuri, Begu, Chittorgarh shamelessly says he won't work for those Booths that didn't vote him! Only Vikas for who voted him! @narendramodi @AmitShah @BJP4Rajasthan pic.twitter.com/4qt332oQO5

— ?? #CongressMuktBharat ??#JusticeForArindom (@CongressDahan) December 14, 2018
Congress leader Rajendra Singh Bidhuri 
will work only for those who have voted him to power and not for those who were against him in the constituency.

It is just beginning "age age dekho hota hai kya" pic.twitter.com/jcFjRnjNdt

— Manish ???? (@_Manish_pal) December 13, 2018
Source: Youtube | Kanhaiyalal Dhaker | News 18 (Hindi)

OUR FACT CHECK
Fact Crescendo team did a fact check on this issue. We found the following:
TRUE
This video is from New18 (Hindi) section and has been shared a lot on WhatsApp groups and social media.
We did translation & transcription of the shared News 18 (Hindi) video, our readers can read it below:
Transcript in English:
"Interviewer: What would be your political strategy going forward?
Rajender Singh Bidhuri: We have won and we would do work for the people. We would do development.
Interviewer: What type of development would you do?
Rajender Singh Bidhuri: Where we have won, we would do development, and where we have lost we would not do development.
We would leave those booths (polling booths). What is there? we don't have to fight (elections) for another 5 years..right?
Those functionaries (political workers) who have helped us, we would work for them, and those functionaries (political workers) who have betrayed us, we would ignore them."
Our readers can easily see that the MLA Rajender Singh Bidhuri did say emphatically that development would only happen where they have won the elections.
Our readers can also check other articles available online on this video:
Opindia.com
Newsroompost.com
Congress leader Rajendra Singh Bidhuri won the Begun seat, defeating BJP's Dr Suresh Dhaker in the 2018 Rajasthan assembly elections held on December 7th 2018. Rajendra Singh Bidhuri won the Begun seat by a margin of 1661 votes. You can know more about Rajender Singh Bidhuri election win here.
Rajendra Singh Bidhuri has not been free from controversy previously also. He was caught up in a controversy before election polling date, when a video was taken of him allegedly commenting against senior Congress leaders Ashok Gehlot and Sachin Pilot.
ZeeRajasthanNews published these videos online:
IN CONCLUSION
Fact Crescendo team tags this video and Rajendra Singh Bidhuri comments as Real. But advises our readers to be circumspect of the various biased narratives being pushed forward using this video. Our readers can make up their own mind about Rajendra Singh Bidhuri's comments.
Fact Crescendo advises its readers to refrain from falling prey to unsubstantiated & misleading WhatsApp forwards and social media posts. When in doubt, visit various news media & fact checking websites online.
Dear Readers,
Do you feel that a certain story is fake? Do you know some additional factual details about a claim being shared on social media?
Then you can submit that claim or news here, for our team to verify and fact check for you.
Thanks,
-Fact Crescendo Team-