Recently on various WhatsApp groups, a photoshoped image displaying headlines from ABP News and NewsExpress.in which stated that Supreme Court has ordered case to be filed against PM Modi in the Rafale deal, was being shared by multiple people.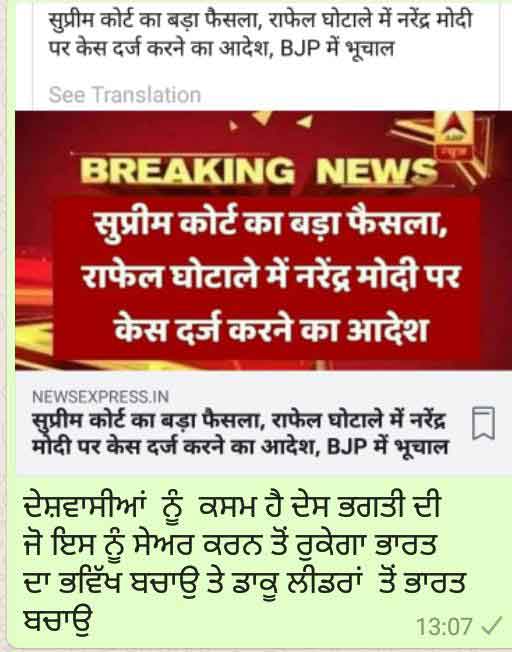 NARRATIVE ON SOCIAL MEDIA
This picture is being shared to push forward a narrative that Supreme Court has issued an order to file a case against PM Modi in Rafale deal.
Hindi Text Translation:

Supreme Court has given a big verdict, Ordered PM Modi to be charged in the Rafale scam case, BJP is shaken.
Punjabi Text Translation:

All Citizens are bound by the devotion to our country to share this message. Save the future of India and save Bharat from these bandit politicians.
OUR FACT CHECK
Fact Crescendo team did a fact check on this issue. We did Google Reverse Image search but did not find any matching image. We also researched various WhatsApp groups, Facebook & Twitter handles to see who were sharing and commenting on this claim.
We found the following:
TRUE
Photoshoped image

and

misleading texts

are being shared around on WhatsApp groups.
The image has been

photoshoped

and is

fake

.
The headline from ABP News in Hindi is

false

. Our readers can easily see the same:

As an example an actual Screen grab of ABP News (Hindi) is given below to help readers to compare both pictures :
Screen grab from ABP News(Hindi) video available online. Courtesy: YouTube.
Readers can easily see the logo position is different in the photoshoped image vis-a-vis the actual display.
The headline attributed to website NEWSEXPRESS.IN is also

False

.

 Translated text:
"Supreme Court has given a big verdict, Ordered PM Modi to be charged in the Rafale scam case, BJP is shaken."
We searched the website of Newsexpress.in for this text, but could not find it.
Newsexpress.in itself is a proxy site which propagates loosely verified and biased news. It has no bonafide and verifiable identity and policies. Fact Crescendo team would update our readers about this site in detail in future.
Current Scenario in Rafale deal issue:
Supreme Court has admitted a petition, which names Narendra Modi as a private individual as one of the four respondents in the Rs 60,000 crore Rafale deal. The petition, filed by lawyer Manohar Lal Sharma on October 10, was on Wednesday clubbed with other three other petitions, all demanding a CBI probe into the controversial 36-fighter jet deal. In his petition, listed as 225-2018, Sharma has argued that allegations of corruption in the deal with France warranted a CBI probe against Modi in a personal capacity, and not as a Prime Minister. Former Union defence minister Manohar Parrikar, businessman Anil Ambani and France's Dassault Aviation have been named as other three respondents in the petition.
The court is hearing four petitions, including those by former ministers Yashwant Sinha and Arun Shourie, asking for a court-monitored CBI investigation into the Rs. 59,000 crore contract for 36 fighter jets from Dassault, a top French aeronautics company.
A bench headed by Chief Justice Ranjan Gogoi, which also comprised Justices U U Lalit and K M Joseph, also said that details, including the steps in the decision making process for the procurement of jets, which could "legitimately" be brought into public domain, be made available to the parties who have filed petitions before it in the matter.
On Wednesday, 31 October, the Supreme Court of India passed an order that could prove extremely significant to the Rafale controversy. Weeks after asking the government to submit details of the procedure by which the final deal was arrived at, a three-judge bench headed by Chief Justice of India Ranjan Gogoi now asked the government to also submit pricing and strategic details in a sealed cover within ten days.
The court, however, took a critical view of the request for a CBI probe into the deal, stating that the investigation agency needed to put its house in order first. The next hearing has been scheduled for November 14.
There has not been any order passed by Supreme Court to file a case against PM Modi till date in Rafale deal issue, as highlighted in the fake message.
Our readers can read the articles given as link below to have a better & more indepth understanding of what is currently happening in the Rafale deal issue:
IN CONCLUSION
Fact Crescendo team tags this post as Photoshoped and Fake. These kinds of misleading posts or messages will be shared across by many people using WhatsApp and other social media applications again & again. But we as readers should be aware of the reality of these kinds of messages, as to what they really are – just a misleading narrative, a distortion of truth.
Fact Crescendo advises its readers to refrain from falling prey to unsubstantiated & misleading WhatsApp forwards and social media posts. When in doubt, visit various news media & fact checking websites online.
Special Thanks:
Fact Crescendo team thanks Pankaj Gupta [email protected] for submitting this WhatsApp message for fact checking through our 'Submit for Fact Check' page.
Thanks to Pankaj for his interest and support!
Dear Readers,
Do you feel that a certain story is fake? Do you know some additional factual details about a claim being shared on social media?
Then you can submit that claim or news here, for our team to verify and fact check for you.
Thanks,
-Fact Crescendo Team-