Recently on twitter a tragic story of a 12-day-old toddler being snatched and killed by a monkey in Agra, was being shared.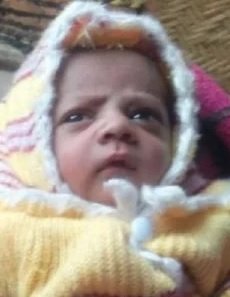 Courtsey: TOI
Our reader Shishir Kumar, requested us to fact check this incident by forwarding us a twitter post:
Monkey kills baby boy in India's Agra https://t.co/mfYKiMiYFA pic.twitter.com/ykRAdZAnns

— 1 News Net (@1_newsnet) November 15, 2018
NARRATIVE ON SOCIAL MEDIA
Five days after a 12-day-old infant was killed by a monkey in Runkata area, on the outskirts of the city, two more toddlers were attacked on Friday night by a simian when they were asleep in their house in Agra pic.twitter.com/ymFIIRv0qX

— Arvind Chauhan (@arvindcTOI) November 17, 2018
#Monkey kills baby boy in India's #Agra

Read: https://t.co/RPAAA81j1r pic.twitter.com/mjKMmEiMLQ

— khabar fori in (@khabarfori_in) November 17, 2018
@indiatvnews rajatsharma Sir monkey is the major issue not only in Delhi here in Agra latest incident I am sending you.. pic.twitter.com/5PdUouWtpS

— Kunal Chugh (@KunalCh08953174) November 16, 2018
OUR FACT CHECK
Fact Crescendo team did a fact check on this issue. We did Google Reverse Image search and researched online to check the veracity of the claim.
We found the following:
TRUE
A 12-day-old baby – Sunny – was snatched and killed by a monkey in Agra's outskirt area on Monday, 12th November 2018.
The incident took place in Mohalla Kachhera of Runkata area near NH-2, in Agra (Uttar Pradesh), when the victim's mother Neha was feeding the baby.
As per Times of India, Yogesh, the victim's father, an auto-rickshaw driver said, "The main door of the house was open, and my wife was breastfeeding our son, suddenly a monkey barged inside our house and grabbed the child by his neck."
"Before Neha could understand anything, the monkey took away our son. After a chase, the monkey left our son on a neighbour's roof but it was too late, Sunny was heavily bleeding and had no pulse. We took him to a nearby private hospital, where he was declared dead," added Yogesh.
Inspector Ajay Kaushal, of Agra Police, said: "The monkey bit the infant's head and left the baby when people chased it with sticks and threw stones at it. The bleeding infant was rushed to hospital but declared dead on arrival."
According to local residents, 15 minutes before snatching away Sunny, the same monkey also attempted to attack a 14-year-old girl, who sustained minor injuries while escaping.
The toddler's name given out by the family, to most of the news media was 'Sunny' but some news media online used 'Arush' also.
Our readers can read the articles given as link below to have a better & more in-depth understanding of this issue:
BBC
TOI
Telegraph
Peninsula
Jagran
TimesNowNews
Amarujala
FoxNews
NDTV
NDTV
NHRC moved for relief to kin of 12-day-old infant killed in monkey attack | Agra News – Times of India https://t.co/MBP3rzX4e8

— Naresh Paras (@paras_naresh) November 17, 2018
IN CONCLUSION
Fact Crescendo team tags this post as REAL and depicts an actual event.
Fact Crescendo advises its readers to visit various news media & fact checking websites online when in doubt about any WhatsApp or social media forward or post.
Special Thanks:
Fact Crescendo team thanks Shishir Kumar [email protected] for submitting this Twitter post for fact checking through our 'Submit for Fact Check' page.
Thanks to Shishir for his interest and support!
Dear Readers,
Do you feel that a certain story is fake? Do you know some additional factual details about a claim being shared on social media?
Then you can submit that claim or news here, for our team to verify and fact check for you.
Thanks,
-Fact Crescendo Team-